Getting Started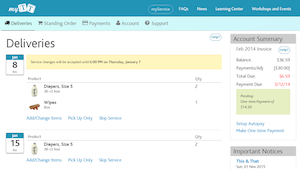 After you sign in to your online account you will be taken to your account home page. From your account home page there are a number of things you can do.
Change upcoming deliveries
Skip an upcoming delivery (if you're on vacation, for example)
Change your standing order
View your account balance and make payments
Change your online settings
Contact us via email
Please note: changes to your order via the web must be made by 12:00 pm (noon) two business days before your delivery.
For changes on the day before your scheduled delivery, you must:
Email before 12:00 pm (noon), or
Phone Tiny Tots customer service before 3:00 pm
Cutoff time may be different for your assigned delivery route and for certain products. Changes will be indicated on your order screens.
Deliveries
The "Deliveries" page displays your upcoming deliveries. You can change the scheduled items with the "Add/Change Items" link.
If you would rather skip service for that day use the "Skip Service" link.
Standing Order
The "Standing Order" page displays your standing order - the items you will receive each week, or less frequently depending on the options you choose. Use the "Change Standing Order" link to make changes. Any changes will be reflected in your upcoming deliveries, unless the cutoff time has passed for a delivery.
Account Summary
You can view the balance of your previous invoice in the Account Summary sidebar on the Deliveries and Standing Order pages. This information will be updated as new payments are received or adjustments are made.
Tiny Tots Diaper Service offers the convenience of auto-pay. Set up auto-pay and enjoy the benefits and convenience.
Account
Through the Account menu you can change your email address and password, set up a secondary user, or sign out of your account.
Support
Through the Support menu you can send us e-mail.